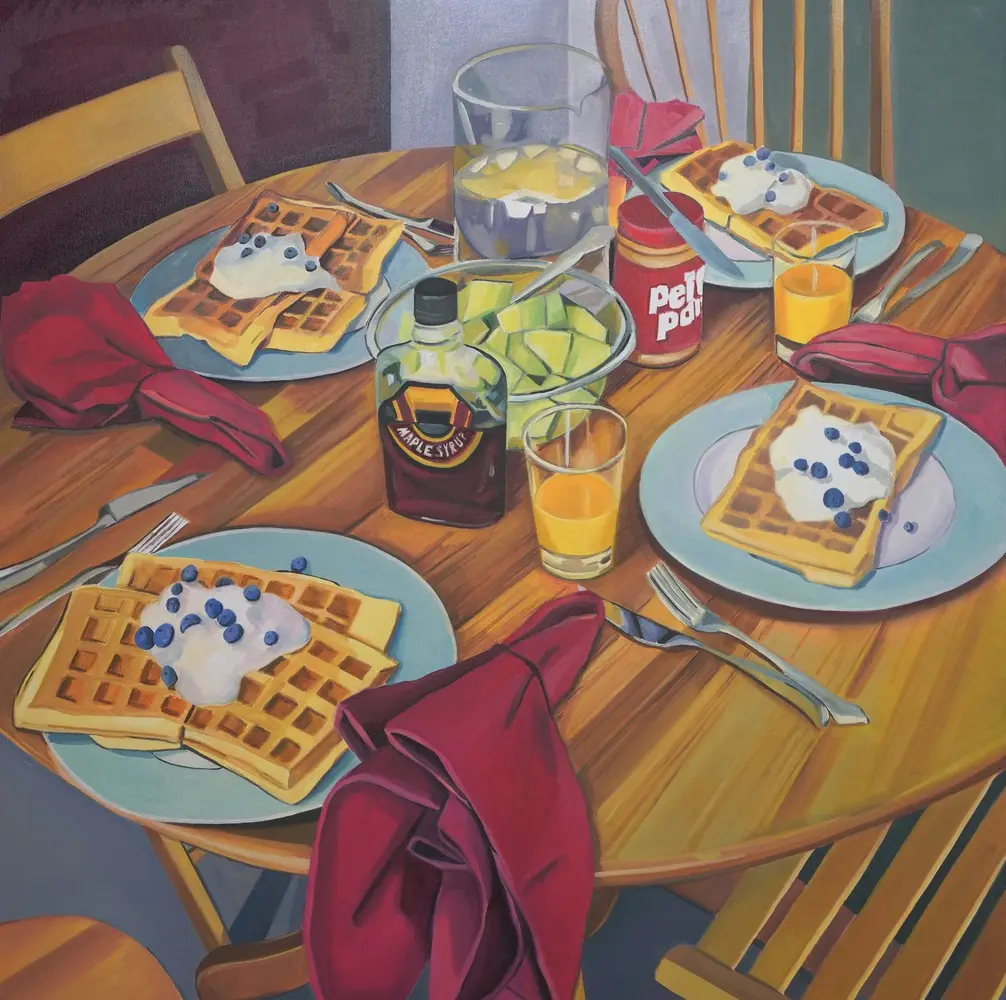 Saturday Morning Breakfast, 2023
---
Dimensions
91.44 x 91.44 cm
---
Tchotchke Gallery is proud to present North Carolina-based Debora Koo's debut New York solo exhibition, entitled With Sugar on Top. Through sweet depictions of the artist's most notable pregnancy cravings, a humorous side of fast-approaching parenthood is depicted in this new body of work. Created during the height of her prenatal cravings, the artist inadvertently depicts a culinary throughline between her current phase of life and that of her childhood. According to Koo, "At first, I thought chocolate milk and waffles were random but they were very much connected to my childhood. This led me down a path of recalling and reflecting on my younger years and wondering about my child's own forthcoming experiences. While these paintings do not reflect everything about my younger self, they do pinpoint odd, humorous, and even my fondest observations I have made as I look back now during this important stage in my life." By creating these works and cementing them in history, the artist hopes to be able to share these memories with her child one day in the future. Thus, with a tinge of nostalgia and a heap of excitement for the future, Koo paints a widely-felt, yet under-recognized, sentiment. A celebration of the present, With Sugar on Top, serves as the artist's step over the threshold and embracement of motherhood.
Artist's commentary
"As for the theme of food, I have always had a huge sweet tooth so I find it most enjoyable when I paint dessert. The reason I love painting food is that it brings back my fondest memories as a child. My happiest moments were at birthday parties, family gatherings, church lunches, and weekend ice cream trips with my dad. Many times in my food paintings I will recreate some of the table settings from my memories but they are embellished and idealized. I believe this is a combination of my love of setting up still lives and romanticizing some of the memories revolving around food." –Debora Koo
Born in 1990 in Seoul, South Korea. Currently residing in Charlotte, North Carolina .
Education
2017 · Ewha Womans University
MFA
2013 · Smith College
B.A. Studio Art: Painting
Solo Exhibitions
Jan 1, 2023 - Jan 1, 2023
With Sugar on Top
There are currently no offers or asking price for this artwork. Once an offer has been placed, the seller can accept the offer and a 24 hour auction for this artwork will begin.