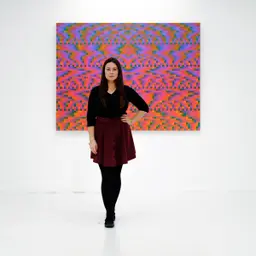 Brianna Bass
@brianna_bass
Brianna Bass (1990) earned her MFA from Yale School of Art in 2022, and BFA in Painting and Drawing from the University of Tennessee at Chattanooga in 2013. She has presented in lectures with Missouri State University, Pratt Institute, and Yale University. She has exhibited work nationally and internationally at Jeffrey Deitch Gallery (NY), Latchkey Gallery (NY), Ladies Room (LA), Noh-Art in Naples, Italy, and Tree Art Museum in Beijing, China. She co-founded Mineral House Media, an artist-run platform designed to enrich emerging artists' practices through exhibitions and an engaged online media archive.
Born in 1990 .
Education
2022 · Yale School of Art
M.F.A.
2013 · The University of Tennessee at Chattanooga
B.F.A.
2012 · King's College London
Study Abroad Program